Give old textiles new life with easy DIY Turmeric Dye
Body
You know that saying, "my eyes were too big for my stomach" as an excuse for not being part of the CPKC*? I think I have that as a general condition. For example, I choose a bowl too small for my cooking needs on a basis that's regular enough to be concerning.
So, it should not come as a shock to you that I decided to try to dye an entire set of sheets, all at once, in a single bin. I should also add that I am, by no means, an experienced dye-er. I dabble.
Why the aggressive experiment, you may be wondering? Well, you see, I bought this galvanized tin tub from my local hardware store because a) I knew I wanted something that could hypothetically get stained by my dye experiments, and then b) could house plants afterward. The plan was going great (by which I mean not rushing things and taking on more than I could manage) until I received some mint clippings from a friend. While I am very excited to have mint as part of the garden, I know that it is a terrible idea to plant the delicious weed directly in the ground because it will take over and be impossible to eradicate.
Hence, I had to hope for the best and dye these sheets ASAP so this beautiful mint could have somewhere safe and confined to live. 
How to Dye with Turmeric
I saved a huge casserole dish full of used coffee grounds with the intention of dying said sheets with coffee. While I am still intrigued by that option, it requires alum (often used for pickling) and washing soda (sodium carbonate) as the mordant (what makes the dye stick). I am not opposed to employing these aids in my dye experiment, but I do not have either on hand.
By contrast, turmeric easily dyes everything in touches whether you like it or not and only requires vinegar as a mordant. I happen to have enough vinegar and turmeric on hand to do this DIY without needing to go to the store. So, yellow sheets it is!** (P.S. Only use pots, pans, or tubs you DO NOT CARE ABOUT to do this. Turmeric likes to stain, and it means it. For my turmeric I used an old, cheap pot that we never cook with anymore but haven't gotten rid of for opportunities exactly like this one.)
First things first: Run a wee bath for your textile(s)
The instructions I followed from Remodelista recommended immersing the fabric in a bath of 4 cups of white vinegar and 16 cups of water, and heating on medium. Because I decided to dye too many things, I doubled that quantity (8 cups of vinegar and 32 cups of water), and used water that was warm-almost-hot to compensate for the fact that I would not be putting the enormous tin tub on the stove.
I regularly rotated the fabric in the bath to try to get an even soak. Again, I'm imperfect.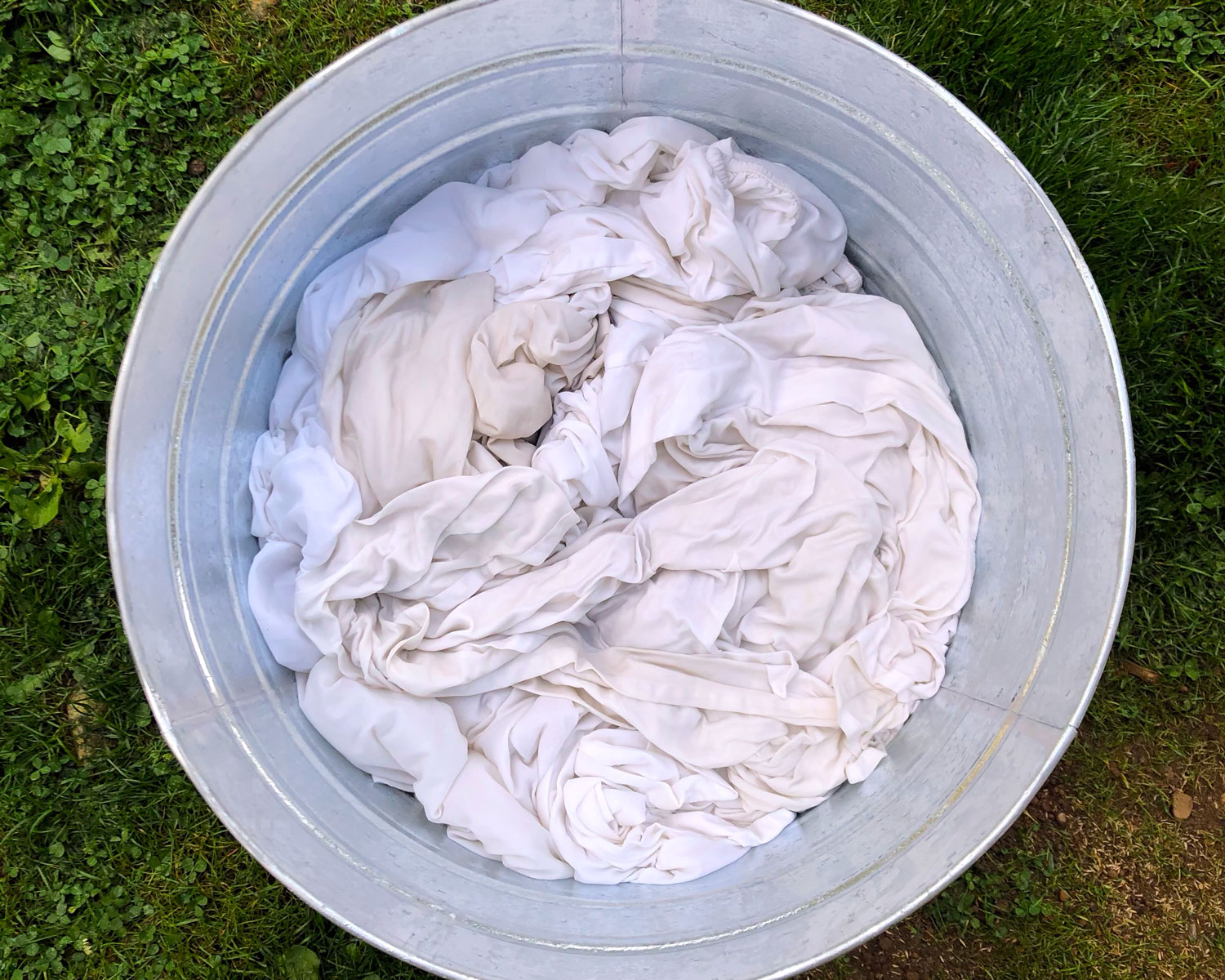 These are my dingy white sheets hanging out in their vinegar bath. If you're making questionable choices as I am and trying to dye WAY TOO MUCH fabric all at once, I highly recommend wearing dish gloves for the mixing of the fabric in the vinegar because it doesn't feel great on skin. If you're making reasonable, rational choices and dying a smaller piece, tongs should do just fine.
Meanwhile,
In a pot (that you don't care about and don't mind if it gets stained), mix 1/4 cup of turmeric with 12 cups of water, bring it to a boil, then reduce it to simmer and let it go for about an hour.
Those were the instructions, anyway. My pot only had room for about 9 cups of water, so I did probably about 1.75 oz (instead of the full 2oz) of turmeric. I added more water to compensate after it had reduced for about 35 minutes to have more dye. More good choices.
And then,
When the dye is ready, drain the vinegar bath (the fabric should all be wet still), and then add the turmeric dye. Leave to stew over medium low heat.
Again, those were the instructions. What I did was drain the vinegar bath, add the turmeric dye, add extra, hot water, and mix it up really well to try to cover all the surfaces. And then I crossed my fingers and toes and hoped I hadn't made a series of questionable decisions.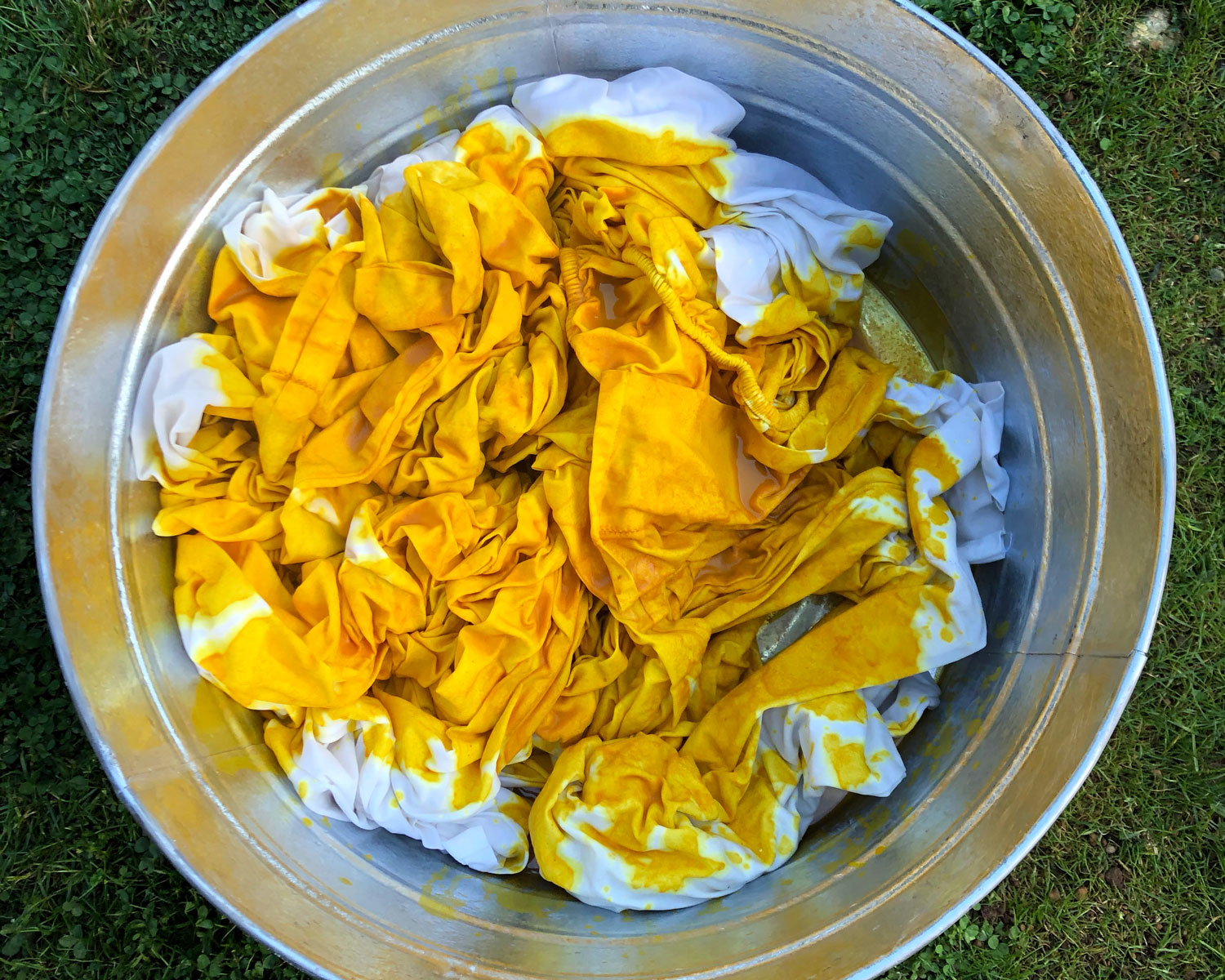 Lesson 1 if you're dying way too much at once: Add the dye bath a little at a time and stir it up in between. I have one pillow case that got way more color than the other.
Tip: Use gloves! Dish gloves are perfect. Otherwise, you will look like an Oompa Loompa.
Remodelista implies that 15 minutes is about the minimum amount of time the fabric should sit in the dye (she did an hour), so I let it go for 30 minutes, rotating it through the dye every few minutes to try to get some semblance of even color. I probably should've folded it up into tidy packets and tried to do more of a shibori or tie dye style. You live, you learn.
When you're ready to be done,
Rinse, rinse, rinse that baby. You do not want any lingering turmeric dye. Again, turmeric can be ruthless, so rinse in a stainless steel sink or with your hose. Do not punish your bathtub, or any other porcelain, marble, quartz, whatever surface.
At last,
Let your fabric dry for 24 hours, then wash it — all by itself — on cold. Good luck!
...What I actually did was let these dry outside for about 5 hours until it looked like it was going to rain. Then, I decided that was good enough and brought them in and threw them in the wash. It was fine. The sheets remained tremendously yellow.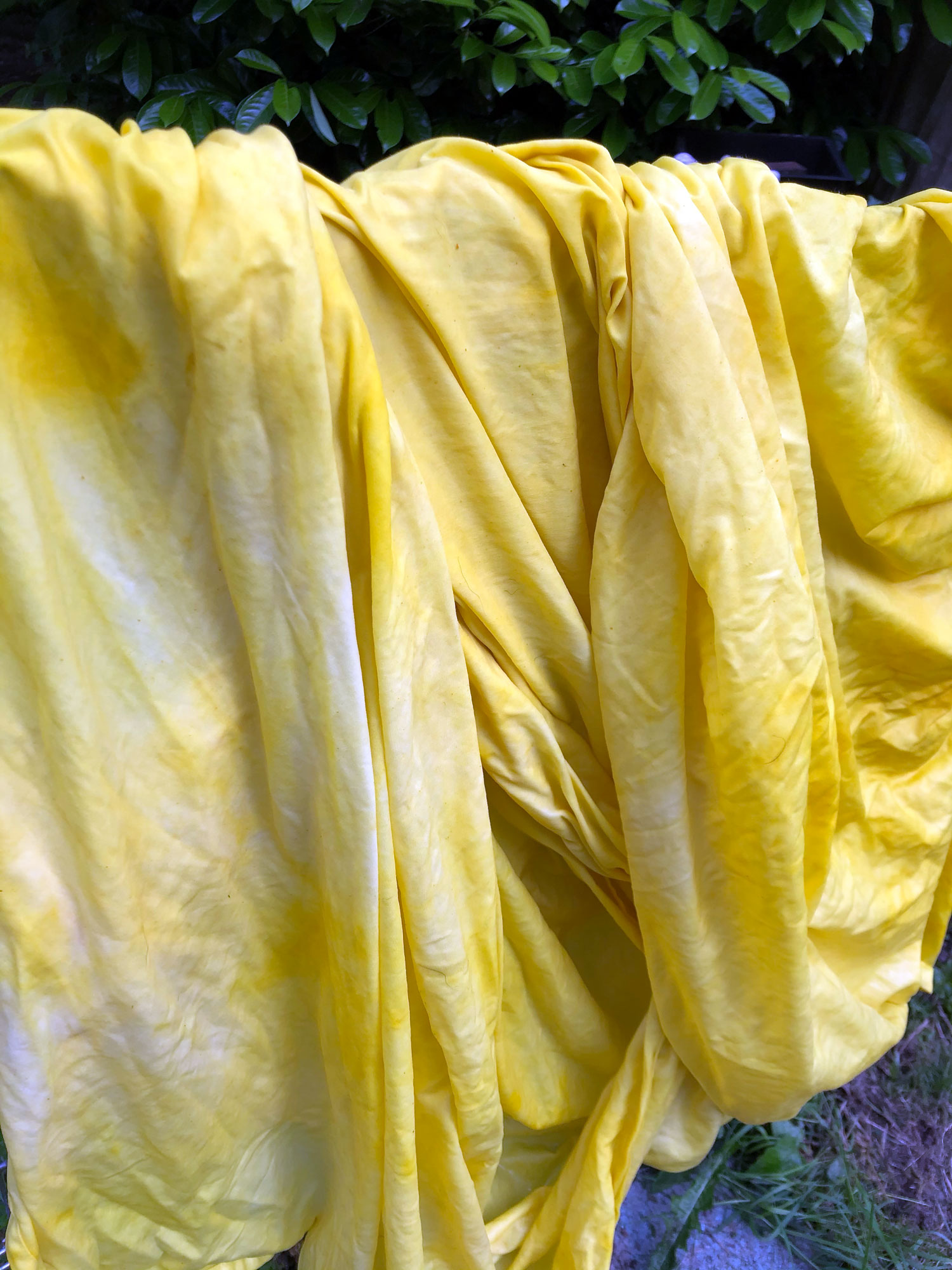 Lesson 2: Do not hang your fabric over metal or anything reactive. I knew it even as I was doing it, but did it anyway. Don't. Now I have some sporadic Dexter-splatter lines of a rust-ish color on segments.
And, tada! Here are my yellow sheets!
But wait, there's more. Turmeric is an instable dye. That means, prepare for these to be mood sheets (like mood rings, get it? Get it?***). First wash, they remained perfectly yellow. Second wash, my husband put them in with some hydrogen peroxide wash boost stuff, and they turned a gorgeous shade of Earthy-peach (accidental and so lucky). And then, over time and with the contact of our skin, that earth tone has calmed down back into yellow. I have no idea what's coming next.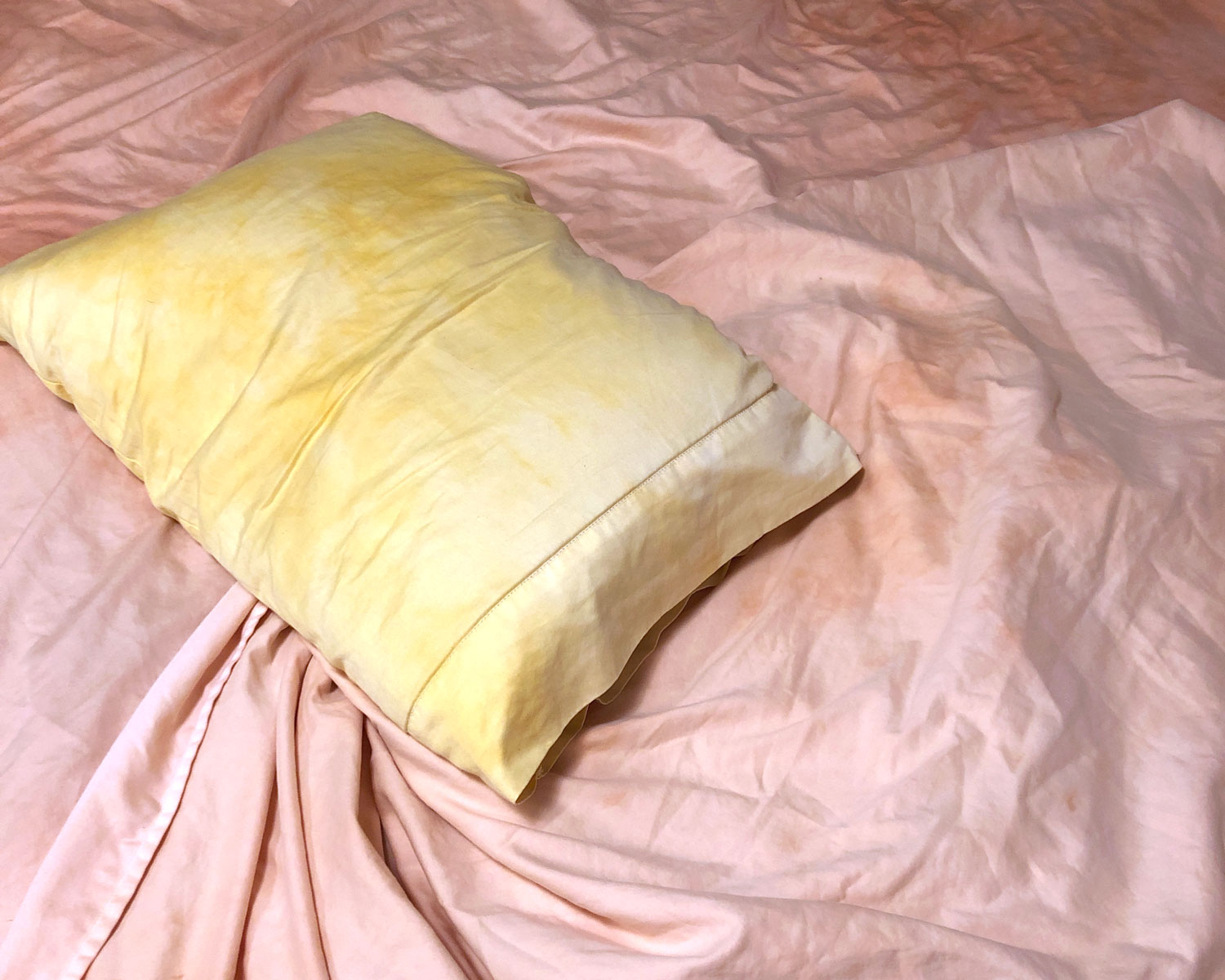 Lesson 3: Whatever you dye will be yellow, but also might be golden peach under certain exposures, might go back to yellow, and likely will change and fade over time. Our sheets are back to yellow.
Still, 100% worth it.
*Clean Plates Kids Club
**I happen to really like yellow.
***The funniest jokes are the ones you explain.