How to Shop eBay Like A Pro
Body
One of the best ways to shop sustainably is to buy pre-owned goods, and a great resource for doing that online online — for a whole variety of items that goes way beyond clothes — is eBay.
However, if you haven't spent a lot of time on eBay, it can be a little overwhelming. This guest post from resident eBay expert, my wonderful and resourceful friend, Jenna, will give you all the tips you need to shop eBay like a pro.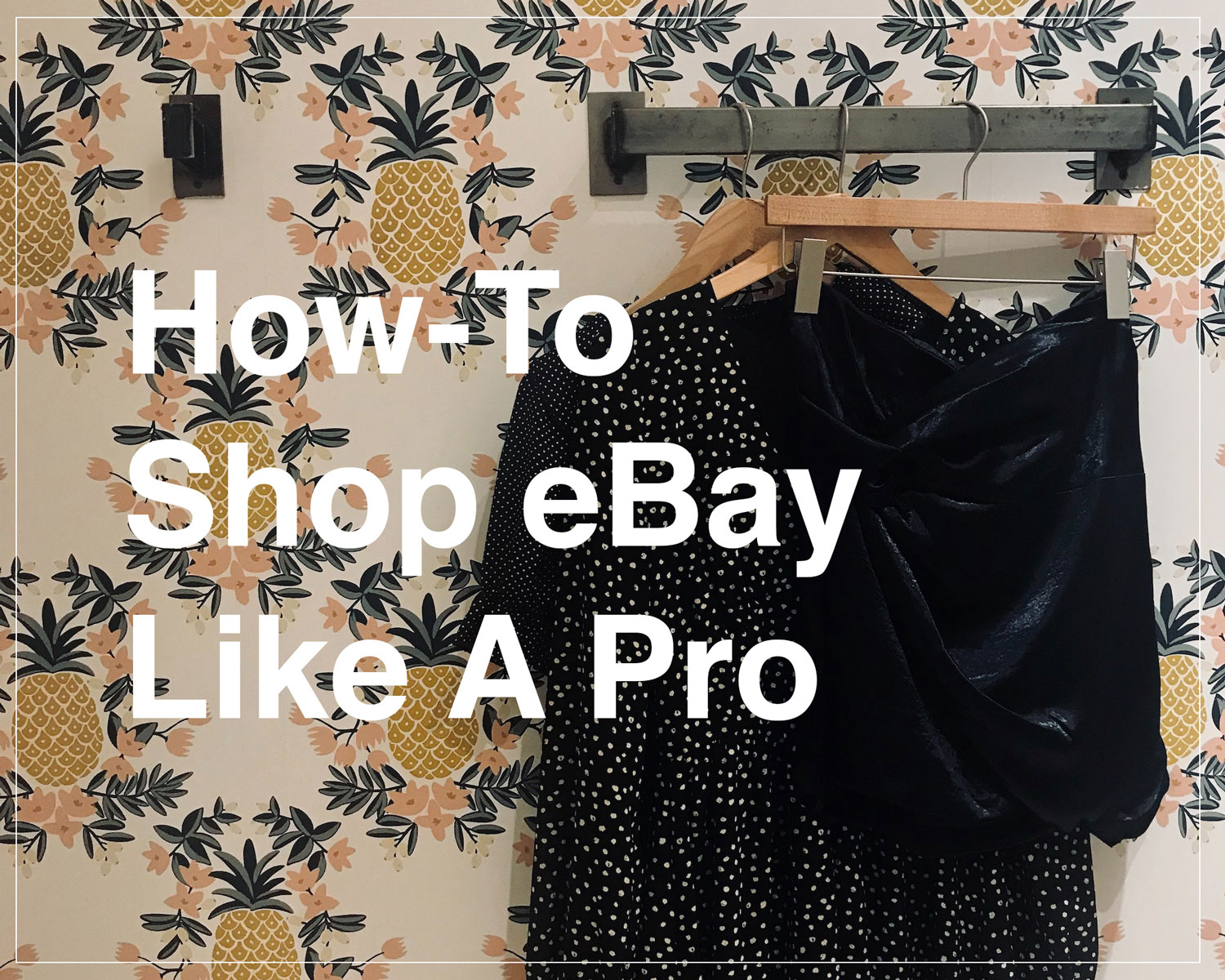 Ebay shopping is a mindset. If you expect a department store experience and quality, you almost surely will be disappointed. Think of Ebay as a thrift store; it's full of used or factory seconds, overstock items and refurbished electronics. The new goods sold on Ebay are often low quality generic brands or designer knockoffs. I only buy used or pre-owned. I don't think I've ever purchased a new item. I did purchase a refurbished cordless vacuum recently and oh man, totally worth it. 
Tips for buying success!
Always be logged in to your account on the app or the site while you're browsing. This means they are watching you, but it means you can add things to your watch list and look at Ebay's suggestion or promoted items using your search history. It's big brother, but I find the recommendations helpful in searching, unlike some other sites.
 
Search for brands and sizes you already own (if you are looking for clothing). This will ensure you get quality and fit you are expecting. Especially if you don't buy from Ebay regularly, you'll have less disappointment.
 
Use the filters. 

In both the app and the site, there are a ton of filtering options. I usually filter for condition (I always look at pre-owned first), and buying format (buy it now and accepts offers are both great!). If I'm looking for clothing sometimes I filter by size. I also like to use 'accepts returns'. 
 

Search generic terms first, then narrow in on language as you hone in on the best listing language for what you're looking for.

ie. 'Everlane', unfiltered. Then turn on filters for pre-owned, shoe size 8. Notice model name of shoe I like. Re-search using Everlane Chelsea 8. Turn on and off your filters with this more specific search. This ensure you've seen all the options. 
 

"Watch" items you're interested in, and then wait to buy, even if they have a 'Buy it now' price.

 I would say 50% of the time a seller will send a lower offer to you within 24 hours on a watched item. Ebay pretty aggressively markets this feature to sellers and, as a consumer, I definitely take advantage of it. Don't do this with things you suddenly feel you can't live without. Someone else can of course come along and buy it while you're waiting for your better offer. 
 

Read the whole listing and look at all the photos! 

I would advise not buying from a listing unless you see pictures of the actual item. Look closely to see if there are quality issues. Read the description. You may have to click through or expand some windows to do this, but its worth it to keep your expectations in check.
 

Contact the seller if you have questions.

An example: Do you have a measurement for the rise of these jeans?  Depending on the value of the item, you may not get your request, but if a seller is eager or the item is expensive, they will likely give you more information.
 

Pay attention to shipping cost and speed.

Again, this is about expectations. And sometimes shipping charges are super high, so it's worth checking.
 

Make an offer!

If "make an offer" is an option, by all means, make one! Know that this is binding if accepted (just like a bid), but most often sellers will accept 15- 20% less than their buy it now price. Ebay will suggest you increase your offer to this level if you enter a number that is more of a 'low-ball'. I tend to stay within 20% of the buy it now price and have only clearly offended one or 2 sellers. Most people just counter-offer if they don't like your offer. 
 

Bid only if…you like gambling.

I hate gambling. So I RARELY bid on items. It's happened, and it's turned out fine a couple times but usually I end up stressed and people pay way more than I wanted too, so the angst isn't worth it to me. Your mileage may vary!
 
That wraps it up! May the odds be ever in your favor.