Is Vitamin A in Sunscreen Safe?
Body
Sunscreen and sunblock are supposed to protect our skin from the sun's harmful rays. So why, then, do so many sunscreen varieties include an ingredient that does the opposite?
The ingredient under question here is retinyl palmitate, which you may see on product labels as "Vitamin A." Simply speaking, retinyl palmitate is a member of the "retinoid family." Not so simply, it is the ester or retinol and palmitic acid.
On its own, retinyl palmitate is actually the mildest of the four types of retinoids most commonly used in skincare. However, that changes when sun exposure is factored in.
What are the skin benefits of Retinyl Palmitate?
Like its retinoid relatives of the Vitamin A family, retinyl palmitate is an effective antioxidant and exfoliator that reduces the appearance of fine lines and wrinkles, fades dark spots, thickens the dermis to slow wrinkle formation, unclogs pores, and may also boost collagen production. And it's less irritating than other retinoid options. I mean, it sounds pretty great, which is why it almost makes sense to have it in sunscreen, one of the most important skincare products out there.
Why Retinyl Palmitate and Sunblock Don't Mix
However, like other retinoids, retinyl palmitate should not be worn in the sun; the instructions for pretty much any retinol product will advise PM application only. This is because retinoids increase skin sensitivity. 
But in the case of retinyl palmitate, specifically, there's scientific data that suggests it can be worse than that. A study by the U.S. National Toxicology Program in 2012 found that the application of retinyl palmitate and retinoic acid prior to sun exposure increased tumor formation and the speed of tumor development in mice subjects (vis-a-vis no skin application). A 2005 study also found that skin treated with retinyl palmitate prior to UVA exposure (the rays of the sun that cause cancer) had three times the cell mutation frequency compared to untreated skin. 
The Bottom Line: Is It Safe?
The above findings are not conclusive, and the risks of wearing retiynl palmitate under UV rays have been disputed as overblown by members of the dermatology field, but still—this ingredient just isn't necessary in sunblock or sunscreen. The purpose of sunblock is to protect the skin, and wearing a skin sensitizer with it that compromises the skin's natural ability to protect itself doesn't make any sense.
So, just skip it. If you see retinyl palmitate or "vitamin A" on a sunscreen label, choose a different one.
Sunscreens I Like
This list is not exhaustive by any means, it's just some options that I've actually used for myself and my kids and liked.
Things I like about it:
SPF 50
I find it's easier to stripe this well-formulated stick (creamy, but not too squishy) on a squirmy toddler and then rub it in than to chase her around with a puddle of sunscreen in my hand, trying not to accidentally stab her in the eye during application.
Things I like about it:
More affordable than many of the mineral options
EWG Verified with only 1s and 2s
Uses 20% Zinc Oxide (as opposed to a bunch of titanium dioxide), which protects best against UVB and UVA rays.
Fragrance-free
SPF 50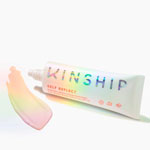 This one is not as "green" as the above options, but it's the best option I've found, so far, for daily wear.
Comfortable on the skin
Doesn't pill
Isn't greasy
I can *see* it, but it doesn't have a bad white cast
I don't dread putting it on. Win.